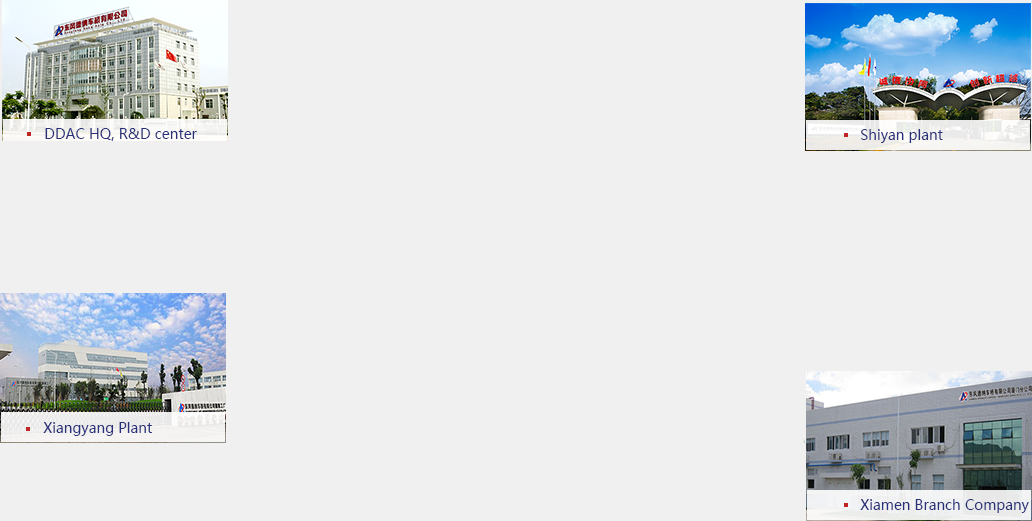 Dongfeng Dana Axle Co., Ltd. (DDAC) was established on December 2, 2012, it as the joint venture between Dongfeng Motor Co., Ltd. and US Dana on June 28, 2005. Each party was holds 50% equity, Chinese sharehold was changed to Dongfeng Commercial Vehicle Co. Ltd. DDAC is the biggest commercial vehicle axle company in Asia.
DDAC has three plants (Shiyan plant, Xiangyang plant, Shiyan Component Plant), one branch (Xiamen Branch) and one subsidiary (Xiangyang Donghuan Industry Co, Ltd.).
The total employees of DDAC are more than 5,000 and about 400 of them are engineers. The total assets of the company are 3.96 billion RMB and
the net assets are 1.07 billion RMB. The total area of DDAC is 830,000 M2, and has 5,000 sets of equipment for machining,heat treatment, forging,
stamping, painting, and induction treatment etc. It has an annual capacity of 800,000 sets of axle assembly, and 650,000 sets of gears.
DDAC has a broad range of products including HD, MD, and LD commercial vehicle axle, about five categories, more than 9,000 kinds of products. It's a company with
the most complete axle models in China. Recent years, the company has paid much attention to technology improvement and product R&D, not only improving the existing
products but also developing new products, such as 13T single driving axle, 13T and 16T hub reduction axle, single reduction driving axle for 11m and 12m bus, and low-floor axle for low-floor bus etc. The strong R&D ability and good quality of products make DDAC keep ahead in axle field and win the trust of Dongfeng Commercial Vehicle Co., and other customers.

After the JV was established, DDAC has introduced products from Dana, and invested 800 million RMB on technology improvement and R&D ability. It has established a
more competitive R&D Center and carried out the cooperation and integration with Dana's R&D center on technology. The company can not only satisfy the development
needs of domestic vehicle, but also implement product development following the advanced technology of international competitors. In this way, DDAC will realize the
transformation from a domestic top axle supplier to an international top axle supplier.